Ireland in Europe Summer School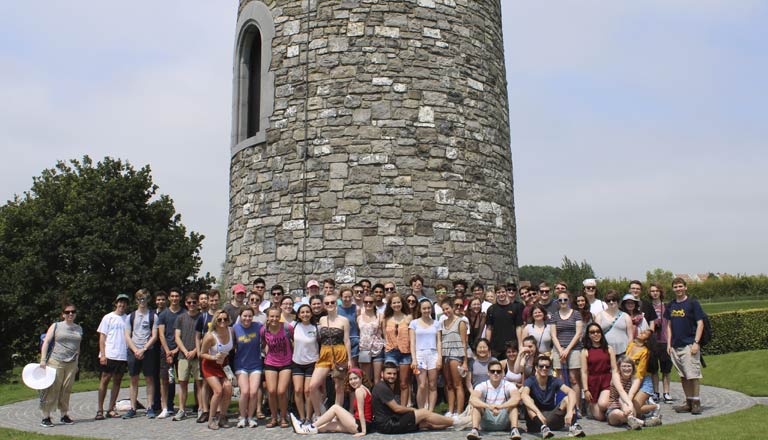 At the end of June 2019, Irish College Leuven was host to an enthusiastic cohort of students from various American Universities that were taking part in University College Dublin's History Summer School. With close to 70 students in total it's easy to say the group was full of energy and ready to explore Europe for the first time.
On the first trip of their programme, they visited the European Quarter in Brussels where they were introduced to the world of European politics. They engaged in discussions with Irish MEP Sean Kelly and a representative from the office of Martina Anderson MEP who gave them insight into the current state of play on Brexit. They were also given an overview of the inner workings of the European Commission's by the Mr. Lorant Havas.
The visit to the battlefields of Ieper provided the students with a sense of what happened on the front lines of World War I. The students weaved through trenches, stared into the depths of the mine-formed 'Pool of Peace', visited the cemetery of fallen soldiers and paid their respects at Menin Gate's Last Post Ceremony. Not only did they learn all about the lives of the soldiers fighting this war, but also about what the Great War meant to the people of Ieper.
On their final day, the cohort was treated to an afternoon of another form of education: a beer tasting in Leuven's popular Domus brewery. Here the step by step process of creating the beloved drink was explained to the attentive students as they (happily) got to taste the different kinds of beer that can be produced at different stages of the cycle.
Throughout the week, the students learnt about Ireland's role in the European Union, both past and present. They were given a history of Ireland's impact on the continent and a discussion on the implications of Brexit on the island in lectures at our campus by guest leturers.
When asked what part was their favourite, they simply said it was "visiting Europe, enjoying the sun with their friends and learning about the differences between here and home". As the cohort arrived in the middle of our summer's heatwave, they were blessed with great weather for the entire week.