Sakharov Prize Ceremony
European Parliament Strasbourg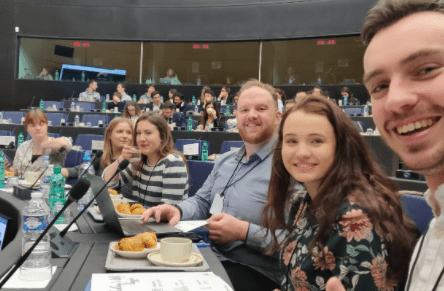 This unique programme, held away from the campus in Leuven, is an example of how Irish College Leuven's knowledge, perspective, and connections in the region, enable us to provide access and introductions to Europe's key institutions.
In this instance, human rights and international development students, from both Trinity College Dublin and University College Dublin, were able to experience the 2018 Sakharov Prize Ceremony in Strasbourg. The Sakharov Prize commemorates those who have made outstanding contributions to human rights and freedom of thought. The ceremony is held annually at the European Parliament in Strasbourg, with university students from across Europe invited to attend a seminar and the ceremony.
On the day of the ceremony, students arrived at the European Parliament in Strasbourg early, joining hundreds of their peers already in one of the Parliament's conference rooms.
After witnessing the finalists being presented with their awards, students were invited to ask them questions. The finalists included: NGOs protecting lives of migrants in the Mediterranean Sea; Moroccan political activist Nasser Zevzafi; and Oleg Sentsov, a Ukrainian filmmaker imprisoned for refusing to accept Russian citizenship following the annexation of Crimea in 2014.
Once Mr. Sentsov's representatives had been presented with his prize, the Dublin participants were invited to attend an MEP debate in the parliamentary chamber. MEPs on all sides of the chamber spoke with great passion.
After the MEP debate, the group was met by Mairead McGuinness MEP, Vice-President of the European Parliament. Ms. McGuinness answered all the questions the students had and posed for pictures with them.
Following an evening exploring the city of Strasbourg, the next day the group undertook an organised visit to the Council of Europe. The Council of Europe, made up of 46 countries in Europe, protects human rights, democracy, and the rule of law in Europe. The session was extremely informative, focusing on the role of the Council.
The students found it a fulfilling and moving experience and a great way to end their academic year. Some observed that, regardless of one's political views, one could not help but be enthralled by the system, the structures, and the intensity of debate. A once-in-a-lifetime live experience.