European Parliament Youth Workshop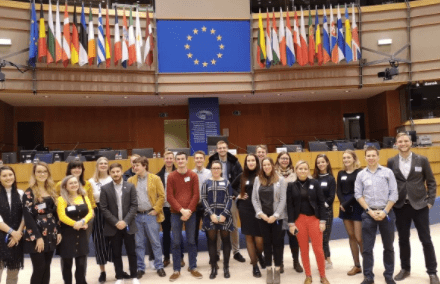 The group consisted of Post-graduate students from Queen's University Belfast, drawn from two Masters' programmes: 'Violence, Terrorism & Security', and 'Politics'.
The group participated in an event at the European Parliament, sponsored by the Visitors and Seminars Unit of the Directorate-General for Communications. This consisted of a debate on the future of Europe, with participation from hundreds of other EU students and senior officials. The debate took place in the awe-inspiring Hemicycle Parliament chamber.
The groups took separate tours the next day:
VTS students toured the controversial Molenbeek area in Brussels and visited the European Network Against Racism HQ.
Politics students visited the Irish Permanent Representative, the Northern Ireland Executive Office, two think tanks, and the Belgian Parliament.
A keynote lecture by Major Serge Stroobants, Director of Operations for Europe and the MENA region at the Institute for Economics and Peace, was followed by a dynamic Q&A session. This was followed by a visit to the European Commission for talks on diplomacy and security policy, held in the room where the EU Commissioners hold their own meetings.
The learning outcomes exceeded expectations. Students reported that the tour added real value to their degree studies. They felt it reformed their opinions on the EU. They appreciated interactions with practitioners in the field of Security Studies and gained insights into the real-life elements of their course work. They enjoyed great lectures from senior staff in the "Brussels bubble" and the opportunity to network with people who could assist their studies now and enhance their employability in the future.
Female students loved that many of the speakers were young women and found this very empowering. Others said that all events and speakers were excellent.
Students also appreciated the chance to get to know their classmates better in a setting they described as "wonderful"—the accommodation, the food, the staff, and the town itself, were all rated as "fantastic". Overall, the trip was summed up as an "amazing opportunity" to be cherished for years to come.