Social Sciences, Education and Social Work Progrmme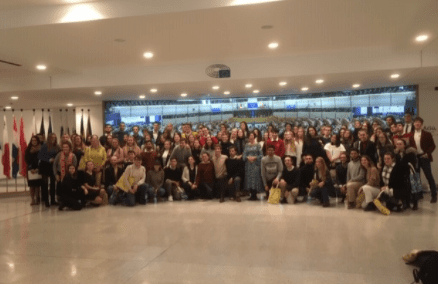 Almost 40 students and staff from the School of Social Sciences, Education and Social Work at Queen's University Belfast benefitted from EU funding to participate in the "Future of Europe" event at the Parliament in Brussels on 19 November 2019. The group was comprised of undergraduate students following courses in Social Policy and Social Work, as well as students of Criminology and Sociology.
The full day of discussions at the Parliament involved students from across Europe and Idea Lab facilitators to brainstorm solutions to the issues of climate emergency, fake news and the future of education before presenting their ideas to MEP Theresa Griffin.
But if the Parliament was the highlight of the tour, it was also just the conclusion to several days of interactive talks and site visits, with a dual focus on humanitarian and mental health issues.
On the first topic, students engaged in lively debate with representatives of SB OverSeas, a non-profit organization based in Belgium dedicated to providing humanitarian aid to refugees and victims of conflict. They had an insightful presentation from the Directorate for European Civil Protection and Humanitarian Aid Operations at the EU Commission, and inspirational site visits to two FEDASIL Reception centres for applicants for international protection. Students were awed by the passion of the co-ordinators and gained insight into the day-to-day challenges of their responsibilities and the traumas suffered by unaccompanied refugee minors. They left with concrete plans to organize clothes donations at QUB to send to FEDASIL, and to explore the possibilities of internships at the centres as well as with their partner SB OverSeas.
On the second topic, a whole day was spent in Geel, a city whose patron saint is the Irish St. Dimpna, patroness of the mentally ill. A presentation at the psychiatric clinic detailed the city's unique model of psychiatric care in the community dating back to the fourteenth century. At the EU Commission, a policy manager from Mental Health Europe discussed their work on mapping deinstitutionalization and the paradigm shift that validates mental health sufferers as "experts by experience."
A day in Bruges allowed for some downtime to wander through the streets of this magical UNESCO world heritage site, take a trip on the canals, eat waffles and climb the Belfry.
Social science students learn how to tackle major policy problems. They do this by applying core concepts from the field to intractable social problems such children's rights, care of the elderly, mental health provision, and climate change. The main takeaway of the European student trip was to add valuable applied and comparative dimensions to their studies that will continue to inform their thinking in the years to come. In addition, they had the unique opportunity to network with professionals in their fields and to source internships that will enhance their employability.