BA Applied Languages & Translation Studies Programme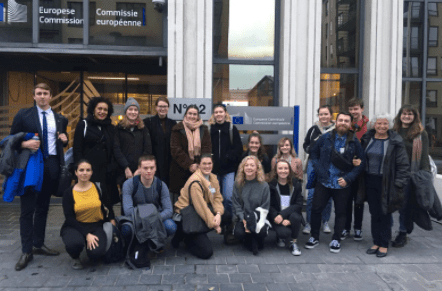 The focus of this programme is to introduce students to potential career paths, both in the EU and in other industries in Europe.
The first day saw translation experts from Visit Brussels, Brussels' tourism company, discuss multilingualism in Brussels and careers for translation studies students. Jurgen Goens, Director of Leuven-based translation technology company LiLo, gave a fascinating lecture on start-ups and the technology currently being used in the world of translation. The final session was expertly organised by KU Leuven Professor of Translation, Dr Peter Flynn. DCU students were joined by KU Leuven Translation students for a quiz in which groups had to not only get the questions right but translate them from one language to another and another.
The following day the group an early start in the European Parliament, with a fascinating discussion on translation and interpretation in the European Parliament from parliamentary translator and interpreter Roisin Abbott. The group was then met by MEPs Clare Daly, Mick Wallace and Sean Kelly, who each gave their thoughts on the importance of multilingualism and what it was like to live in a multicultural, multilingual city like Brussels.
The afternoon session saw the group visit SCIC, the Directorate General for Interpretation at the European Commission. Morag Neath, Deputy-Director for the English Unit, was extremely generous with her time and delivered a fantastic overview of SCIC's work and the potential for careers within SCIC. She then brought the group to a meeting at the Council of the European Union, where students were given a tutorial of how interpretation booths work during a live Council meeting.
The final day was a mammoth session at the offices of the Directorate-General for Translation in Schaerbeek. The staff at DGT devoted their entire working day to the students, introducing them to their work, the various departments within DGT, the technology currently used in DGT and career paths at DGT. The highlight was a working lunch with translators, in which students and translators discussed their work in a more relaxed and informal way.