Masters in Business Administration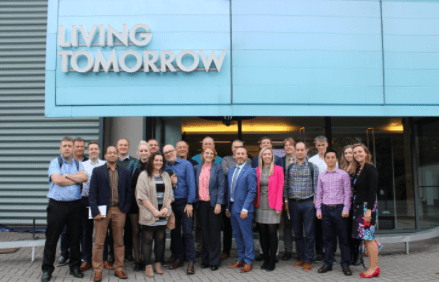 CIT's MBA students engaged in a programme focusing on strategy in the business world, strategic management, future trends in technology, and the implications of Brexit for Ireland and the European Union.
Future Trends Expert and Head of Guides at Living Tomorrow, Dirk Gaudeus, delivered a highly innovative workshop on future trends in technology. The group was introduced to a number of major trends in the world of technology and given the chance to work with 3D pens. Following this session were visits to Living Tomorrow and Microsoft where students engaged with virtual reality and further technological demonstrations.
Prof Annabel Sels, KU Leuven Faculty of Business & Economics, delivered a fascinating lecture on strategic management in the military and how it has been translated into the business world. This tied in perfectly to a visit to the World War I battlegrounds in Ieper, where the group visited the Island of Ireland Peace Park, Kemmel Church, Bayernwald Trenches and Tyne Cot Cemetery. Despite the adverse weather, it was a fantastic day out.
Visits to DHL Aviation Hub and Audi allowed the group to gain first-hand insight into the logistics and strategies implemented by two of the most recognised companies in the world, in their respective fields. It was particularly interesting to learn about the policies both companies have implemented to ensure that they are on track to reduce carbon emissions, which is a key target of companies in the present day.
A visit to the EU Quarter in Brussels gave the group the chance to meet with each of the Ireland South MEPs at the European Parliament and a fascinating discussion on the implications of Brexit for Ireland at IBEC's Brussels office, with IBEC EU Director Shane Lyster and IFA EU Director Liam McHale.