International Business and Languages Programme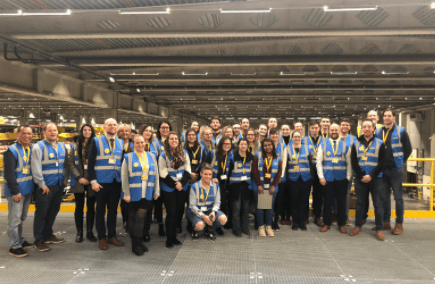 The group was made up of students studying International Business and Languages at Cork Institute of Technology. Their visit was designed to focus on several elements: Trade and Commerce within the EU, business management in Europe, and innovation in digital technology, as well as the ongoing effects of Brexit.
Irish College Leuven put together a programme that combined company visits, meetings with interest groups, and engagement with the EU institutions in Brussels.
To understand the European Union's trade and commerce policies, the students visited the European Commission and the European Parliament.
At the European Commission, they met with representatives of DG GROW and DG TRADE, to discuss the strategy for competitiveness of SMEs, and the EU's trade policy.
Irish College Leuven facilitated a panel session with representatives from IBEC and the IFA, where they discussed the impact of Brexit on Irish businesses operating within the EU. Brexit was discussed further during a visit to the offices of Business Europe.
At the highly innovative Mercedes Benz Customer Assistance Centre in Maastricht, students saw the importance of 24/7, first-class customer service, which demonstrated why successful companies put so much effort into customer care.
There were visits to ABInBev, the world's largest brewing company, whose European HQ is located in Leuven, and to the DHL Aviation Centre at Brussels Zaventem Airport.
The group was given a tour of Living Tomorrow and Microsoft Innovation Centre in Brussels, led by a future trends expert. They experienced products and systems that will soon be in everyday use. It was an opportunity to delve further into the latest technology and to experience virtual reality and artificial intelligence first-hand.
Students described the trip as 'truly inspiring'. The comprehensive programme encompassed visits, interaction and discussions with relevant individuals and organisations, covering the breadth of policy, business, and trade in Europe. Overall, it gave a strong, relevant context to their studies.